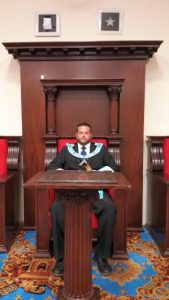 A message from the Worshipful Master
The human experience is not what it used to be. In this world of media, instant rewards, and fast paced lifestyles, we lost sight of some really important parts of life. As Freemasons, we try to help restore those genuine values for a better legacy. What do you want to be remembered for? We use the tools of the craft as lessons to educate and improve ourselves as humans; lessons including charity, morality, and brotherhood are found in our fraternity.
To become one, ask one.
Worshipful Brother Alex Lesage
Duke of Connaught
Lodge #64
District 17